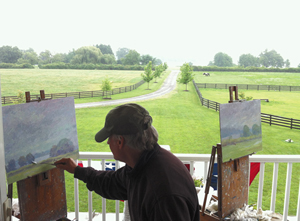 It's getting to be that time of year again - I'm working steadily towards my annual Open Studio show and sale of new paintings. Hope you can come! The light is fantastic this time of year. On this page are a couple of paintings that will be in the show. Sharon and I "farm-sat" for a family on the eastern shore this summer and while Sharon painted the chickens, I came away with paintings of horses and the surrounding landscape. After a quick trip to Provincetown, MA, I've been mainly painting the gardens surrounding what is now our "studio house" at McKinley St. here in Annapolis.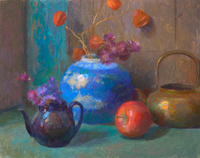 Almost forgot! This show will also debut my life-size figure painting, "Study in Scarlet". Painted last winter, almost entirely from life in my north light studio on Fiddlers Hill Rd.
Please feel free to "friend" me on Facbook - I post work that is "fresh off the easel", often with pictures of the scene.
NEW FALL CLASSES ONLINE NOW! (Please click here)