Spring/Summer
Classes and Workshops 2017
Portrait and Figure Painting on the Beach - a Plein Air Weekend Workshop
Annapolis, Maryland
Saturday & Sunday, June 3 & 4 - 9 AM to 3PM
Fee $200 (model fee of $45 collected on day one)
Registration: contact John directly at johnebersberger@verizon.net
Our 12th annual workshop on the beautiful Magothy River at the home of Arnold and Connie Meyers. We will have four models posing during the workshop, two portrait and two standing. Still life set-ups will also be provided for those just beginning.
This intensive weekend workshop will help the student unlock the mysteries of color perception and the use of color to describe light in representational painting. John studied with American Impressionist Henry Hensche during the last ten years of Hensche's life. In this workshop you will be introduced to the unique method of color study developed by Hensche and his mentor, Charles W. Hawthorne at the famed Cape School of Art in Provincetown, MA.
Classes and workshops offered at Maryland Hall for the Creative Arts


Impressionist Portrait Painting- 2 Day Workshop
Saturday and Sunday, April 22 and 23 -9:30 to 3:30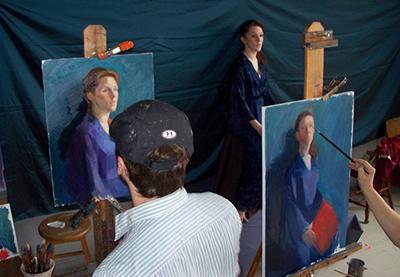 This weekend workshop will utilize Maryland Hall's north-light studio classrooms to explore portrait painting with an emphasis on color perception. A fundamental challenge in portraiture is how to paint a beautiful , natural looking flesh color. This aspect of portraiture will be studied along with proportion, light and shade,and anatomy. We will have four models, so everyone will get a good spot.  Students will complete a finished portrait in the workshop.($45 model fee collected at first class).
Price $210

Impressionism, Weekly Class
New Session Starts Monday, February 6

This class will explore the dynamic use of color to create the illusion of light in oil painting. Ebersberger's decade of study with renowned American Impressionist Henry Hensche, this metho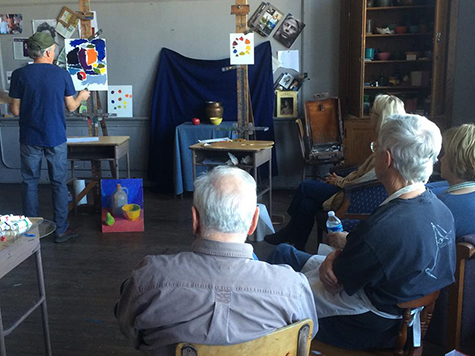 d of color study is designed for beginners as well as advanced students of painting. Students will learn to perceive and paint with a full-spectrum palette of color, giving their paintings greater luminosity and brilliance. Still life set-ups will be used in Maryland Hall's unique north-light studios, and outdoor still life , when weather permits.
Session I
Start Date: February 6, 2017
End Date: March 13, 2017
Monday, 9:30 AM to 11:30 AM
Session II
Start Date: March 20, 2017
End Date: April 24, 2016
Monday, 9:30 AM to 11:30 AM
Classical Figure Drawing
New Session Starts Thursday, February 2

This class will cover all aspects of drawing the figure realistically and expressively in vine charcoal. Working from the live model, students will gain mastery over portraying the beauty of the human form. Topics of study will include anatomy, proportion, and renderi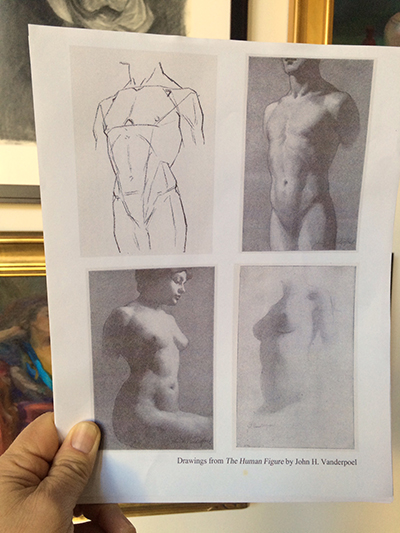 ng the figure in light and shade. Individual attention, group critiques and demonstrations will make this anexciting and informative class. Illustrated handouts and copies of master drawings and will be given out for take-homestudy at each class session. A $45 model fee will be collected at first class. (This class is suitable for high school students building a portfolio for college submissions.)
Session I
Start Date: February 2, 2017
End Date: March 2, 2017
Thursday, 7:30 PM to 9:30 PM
Session II
Start Date: March 9, 2017
End Date: April 6, 2017
Thursday, 7:30 PM to 9:30 PM