Fall / Winter
Classes and Workshops 2017
Private Classes
John has been teaching in a classroom setting for the past 35 years. He is now offering private lessons.Work with John one on one and learn about composition, expand your understanding of perceiving and expressing nature's color and the influence Henry Hensche has had on John's work.
By appointment
$60 an hour (2 hour min)
Email John Directly to schedule your private lesson - JohnEbersberger@verizon.net
The Impressi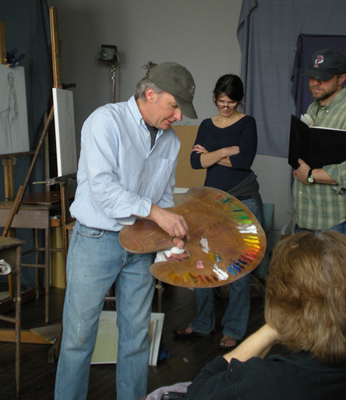 onist Still Life- A one day Color Mixing Workshop
Maryland Hall For the Creative Arts
Saturday, October 21 - 9:30 AM to 3:30PM

Suitable for all levels of ability, this workshop will focus on the use of color to create vibrant, light-filled paintings. Painting in Maryland Hall's unique north-light studio classroom, students will complete a still life painting in oils. Instructor John Ebersberger will take you through the steps of laying out the palette, composing a still life, and mixing colors. Still life objects will include fruit, crocks and antiques from the instructors personal collection. Color hand-outs will be included for take-home study. Demonstrations as well as one-on-one instruction at the easel will make this a fun and informative workshop.
Impressionism: An Introduction
A one day Workshop
Saturday, December 9 -9:30 to 3:30
A special one-day oil painting workshop. Learn how to mix and use color to create a sense of light in oil painting. If you've every wanted to learn about the impressionists' useof color, or how to mix colors, this is for you. Students will learn about the relationship of colors on the color wheel and fundamentals of mixing color. You will leave with a completed still life painting. Suitable for those just starting out, as well as intermediate students who want to increase theirunderstanding of color.

Impressionism: Weekly Class
New Session Starts Monday, September 18

This class will explore the dynamic use of color to create the illusion of light in oil painting. Ebersberger's decade of study with renowned American Impressionist Henry Hensche, this metho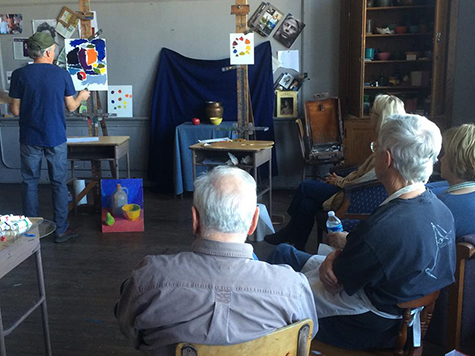 d of color study is designed for beginners as well as advanced students of painting. Students will learn to perceive and paint with a full-spectrum palette of color, giving their paintings greater luminosity and brilliance. Still life set-ups will be used in Maryland Hall's unique north-light studios, and outdoor still life , when weather permits.
Session I
Start Date: September 18, 2017
End Date: October 16, 2017
Monday, 9:30 AM to 11:30 AM
Session II
Start Date: October 23, 2017
End Date: Nobember 20, 2017
Monday, 9:30 AM to 11:30 AM

Figure Drawing in Charcoal: Weekly Class
New Session Starts Thursday, September 21

This class will cover all aspects of drawing the figure realistically and expressively in vine charcoal. Working from the live model, students will gain mastery over portraying the beauty of the human form. Topics of study will include anatomy, proportion, and renderi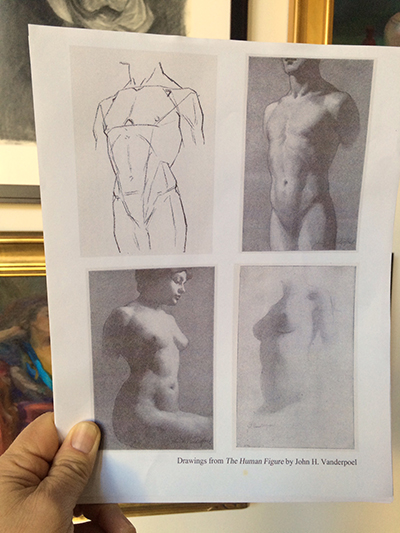 ng the figure in light and shade. Individual attention, group critiques and demonstrations will make this anexciting and informative class. Illustrated handouts and copies of master drawings and will be given out for take-homestudy at each class session. A $45 model fee will be collected at first class. (This class is suitable for high school students building a portfolio for college submissions.)
Session I
Start Date: September 21, 2017
End Date: October 19, 2017
Thursday, 7:30 PM to 9:30 PM
Session II
Start Date: October 26, 2017
End Date: November 30, 2017
Thursday, 7:30 PM to 9:30 PM