Winer Spring 2020
Impressionist Workshop II
Maryland Hall for the Creative Arts

This special one-day workshop is suitable for all levels of ability - beginner to advanced. Learn how to use and mix color to create a dynamic sense of light in oils. This class will help you to see color in the Impressioinist tradition. Still life will be used as our subject of study, painting in Maryland Hall's north-light studio classroom. 
Saturday, April 18, 9:30 -3:30
Weekly Class


Impressionism:
New Session Starts Monday, January 27
This class will explore the dynamic use of colorto create the illusion of light in oil painting. Ebersberger's decade of study with renowned American Impressionist Henry Hensche, this method of color study is designed for beginners as well as advanced students of painting. Students will learn to perceive and paint with a full-spectrum palette of color, giving their paintings greater luminosity and brilliance. Still life set-ups will be used in Maryland Hall's unique north-light studios, andoutdoor still life when weather permits.
Session I
Start Date: January 27, 2020
End Date: March 2, 2020
Monday, 9:30 AM to 11:30 AM
Session II
Start Date: March 9, 2020
End Date: April 6, 2020
Monday, 9:30 AM to 11:30 AM

Figure Drawing in Charcoal: Weekly Class
New Session Starts Thursday, January 30

This class will cover all aspects of drawing the figure realistically and expressively in vine charcoal. Working from the live model, stu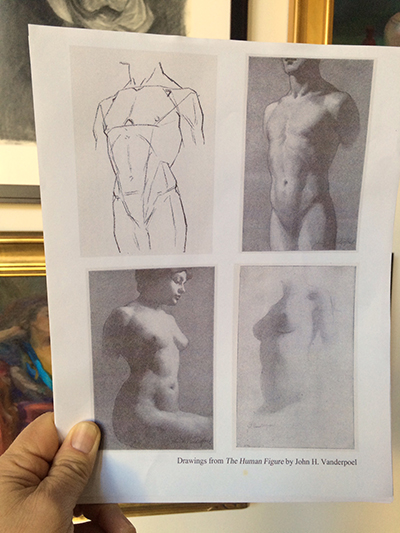 dents will gain mastery over portraying the beauty of the human form. Topics of study will include anatomy, proportion, and rendering the figure in light and shade. Individual attention, group critiques and demonstrations willmake this anexciting and informative class. Illustrated handouts and copies of master drawings and will be given out for take-homestudy at each class session. A $45 model fee will be collected at first class. (This class is suitable for highschool students building a portfolio for college submissions.)
Session I
Start Date: January 30, 2020
End Date: February 27, 2020
Thursday, 7:00 PM to 9:00 PM
Session II
Start Date: March 5, 2020
End Date: April 2, 2020
Thursday, 7:00 PM to 9:00 PM