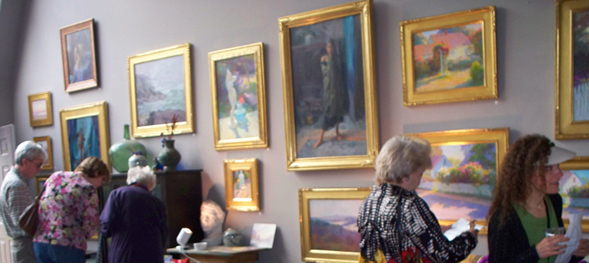 Visit John's studio!
by appointment (410) 533-1803
Thanks to all for making my first Open Studio exhibit a great success. I'm looking forward to doing it again next year! If you'd like to visit the studio to see available work, feel free to call or email to make an appointment. My paintings are always on display at the McBride Gallery in Annapolis, MD - and the Troika Gallery in Easton, MD.
Directions to the Studio
The studio address is 111 Fiddlers Hill Rd., Edgewater MD 21037
1. Take Rt. 2 South over the South River Bridge
2. Turn left on Rt. 214
3. Go past the light at South River High School
4. Turn right on Muddy Creek Rd.
5. Turn right on Fiddlers Hill Rd.
6. You will be on a country road. Go past the pond on your right. You will wind up a hill and pass a house on your left.
7. The next building you come to is the studio. It has tall slanting windows. My cell phone is (410) 533-1803 if you get lost.
Home | Galleries | News |Biography |Publications| Classes/Workshop | Photo Album | Contact